Why Kimchi?
Fermentation has been part of human diet since the prehistoric times. Kimchi is a Korean culinary tradition with a 1,500 year recorded history, developed as a means to preserve cabbage and other vegetables naturally through fermentation—like its distant cousin sauerkraut, or brined pickles.
There is a certain mythical aura to kimchi if you ask any Koreans. Long heralded as the "super food" of Korea, many studies and findings in recent years associate kimchi's unique attributes to numerous health benefits. Kimchi produces non-dairy probiotics, or "healthy bacteria," that aids in digestion and building a healthy, balanced gut flora, which results in a stronger immune system. One of kimchi's main ingredients, raw garlic, has been proven to show cancer-fighting potential and the abundant antioxidants in kimchi are credited for slowing down aging process.
Every jar of Kimchi Kooks is handcrafted and lacto-fermented using only the freshest all-natural ingredients with no added preservatives. Raw and gluten-free, this kimchi is packed with vitamins and non-dairy probiotics that are essential for your diet.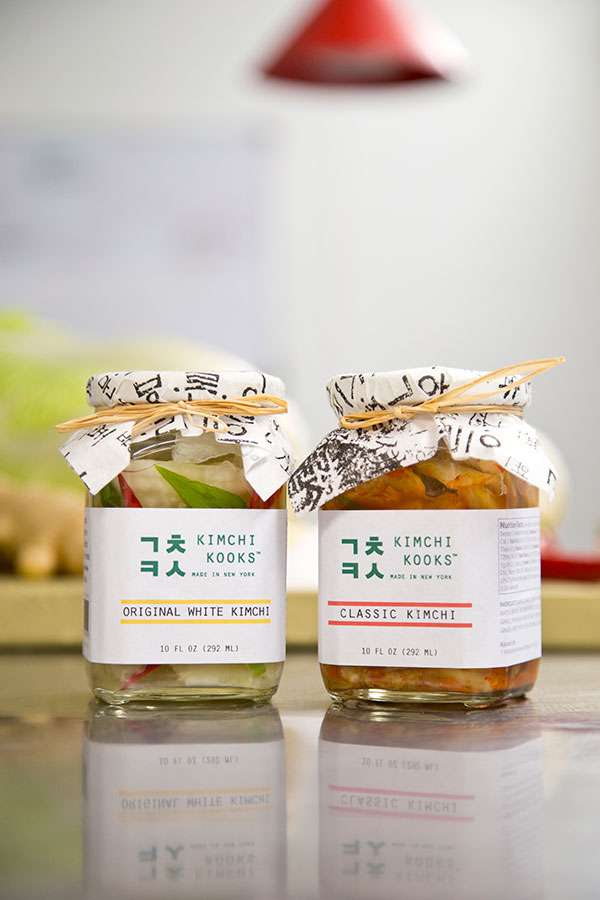 A Family Affair
Kŭmbong Brewery logo in 1955
Fermentation of foods and beverages was very much a way of life in the Kook family. The technique and the knowledge of various types of ingredients and the resulting quality of foods have been taught and handed down from generations of men and women in the family.
Our recipes originate from Kate Kook, whose grandfather, when she was growing up in Seoul, owned the then well-known Kŭmbong Brewery that produced cheongju, a high quality rice wine, from early 1920s until the late 1960s.
Inspired by her experience of living in New York City since 1999, Kate created many small batch recipes using local, seasonal ingredients. Out of these experiments comes the Kimchi'd™ line, a contemporary take on a timeless tradition.
Kate has since perfected her own traditional Kook recipes that feature the Classic Kimchi and the Original White Kimchi.
In 2015, Kate Kook and her son, WooJae Chung, established Kimchi Kooks in Brooklyn, New York.
Kate's Kitchen
Kimchi Kooks has now opened our first brick and mortar location—Kate's Kitchen—in Bay Ridge, Brooklyn! At our storefront, customers can purchase our handmade kimchi, freshly made banchan, yangnyeom, and more, all created by Kate Kook. We have a take-away menu of simple and delicious Korean dishes with rotating items and exciting weekend specials. We are thrilled to offer our customers a place to discover new flavors, to seek inspiration, and to learn more about Korean culture and cuisine.
Our family business is founded on a deep respect for our Korean roots, which we strive to share with our customers here in New York City. We take freedom and creativity in how we translate our own authentic Korean essence into a personal and unique experience for customers when they visit our shop. We believe that true Korean character is conveyed in the appreciation for generational knowledge, attention and care given to ingredients, and authorship in styles of preparation.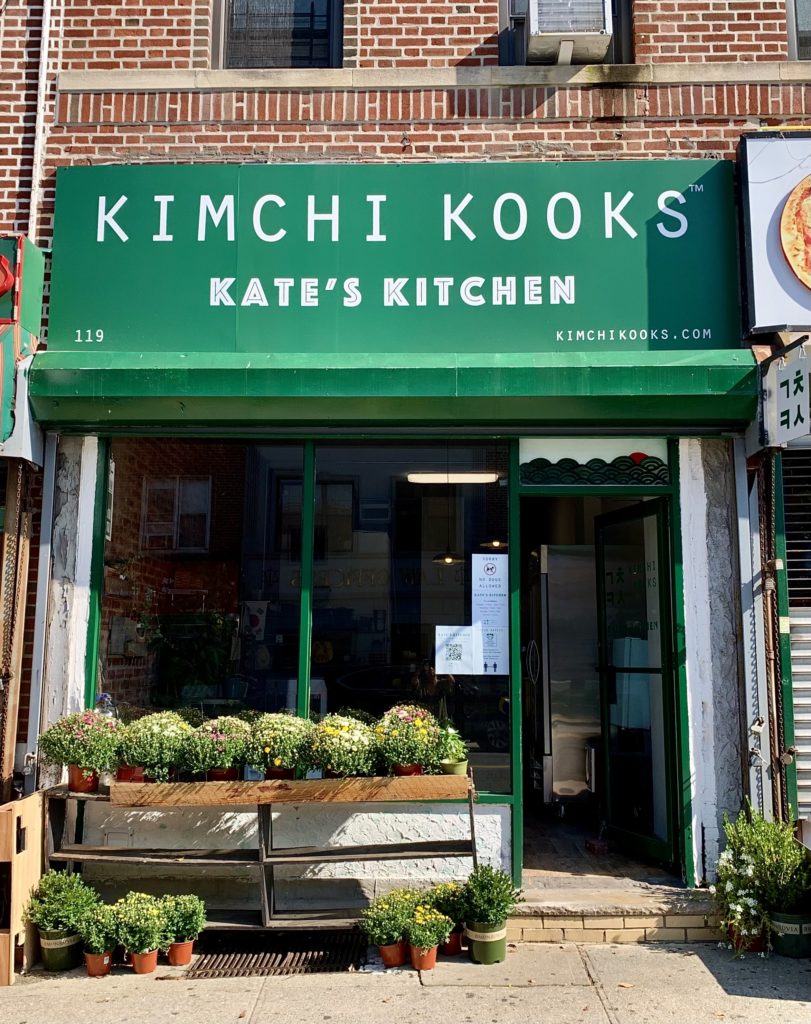 In Stores
at farmers markets:
Park Slope Farmers Market

Market open Sundays (All Year), 9am-2pm

4th Street and 5th Avenue, Brooklyn, NY

McGolrick Park, Greenpoint Farmers Market

Market open Sundays (Mar-Dec), 9am-2pm

McGolrick Park, Greenpoint, Brooklyn, NY
in stores:
Greene Grape Provisions

767 Fulton Ave, Brooklyn, NY 11217

Key Food

492 Myrtle Ave, Brooklyn, NY 11205

Fine Fare

1305 Myrtle Ave, Brooklyn, NY 11221

K&Y Fruit and Vegetable

291 Court St, Brooklyn, NY 11231

Mr. Kale

744 Franklin Ave, Brooklyn, NY 11238

Mr. Kiwi

957 Broadway, Brooklyn, NY 11221

Mr. Lemon

410 Knickerbocker Ave, Brooklyn, NY 11237

Mr. Lime

313 7th Ave, Brooklyn, NY 11215

Mr. Mango

59 Lafayette Ave, Brooklyn, NY 11217

Mr. Piña

219 Havemeyer St, Brooklyn, NY 11221

Mr. Plum

658 Manhattan Ave, Brooklyn, NY 11222

Nathan's Farm

829 Manhattan Ave, Brooklyn, NY 11222

Carib Food Market

1303 Fulton St, Brooklyn, NY 11216

3 Guys from Brooklyn

6502 Fort Hamilton Pkwy, Brooklyn, NY 11219

Farm Boy Market

117-20 Liberty Ave, Queens, NY 11419

Gorillas

Grocery Delivery App NYC Delivery Areas